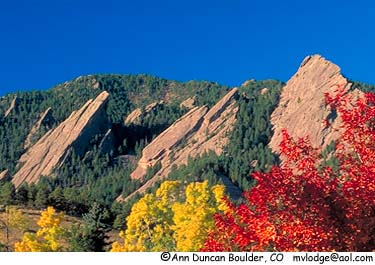 Spring...in the shadow of the Rocky Mountains.


The Penguinstuff Story v0.1
Hello, and thanks for checking in with our little company in the shadow of the Rockies in Boulder, Colorado. It all started, innocently enough, a few years ago when a brand new external modem refused to work correctly under Windows. The installation was difficult and the connection and speed were horrid. "Harrumph," my friend snorted, "I bet it would work fine under Linux!"
"What's Linux?" I said.
That simple little comment started months of intense reading and study about this upstart, open-source little OS that seemed to have so much to offer to those tired of "plug and pray" device installation, the Blue Screen(s) of Death, regular crashes, memory leaks, bugs and related vermin, therapeutic re-boots, and generally unexplainable (and unacceptable) computer behaviors.
In whatever spare time that could be devoted over the past many months, we've gotten small loans from numerous investor-friends, slowly learned how to build an online business, and now offer our first product to the world. We want to help spread the news that there IS an alternative operating system! It is NOT required that you look at the world through Windows only. Linux may still be somewhat immature, but it works very well in most cases, and recent refinements are making it a viable alternative to the "default standard."
We plan for this website to become an increasingly valuable resource for the Linux community. We're working on other artwork and designs, and plan to offer new products as we can, eventually branching out into software and perhaps hardware offerings. But for now, there's a new better Penguin in town! Tell your friends, and come back to see us from time to time. We welcome your feedback and ideas, and thanks for visiting.